Bridal Hairstyles African American Ideas
Modern Hairstyles for Black Brides
Updos, loose curls, kinky buns, locs — modern hairstyles for Black brides are taking classic wedding hair to new and beautiful heights.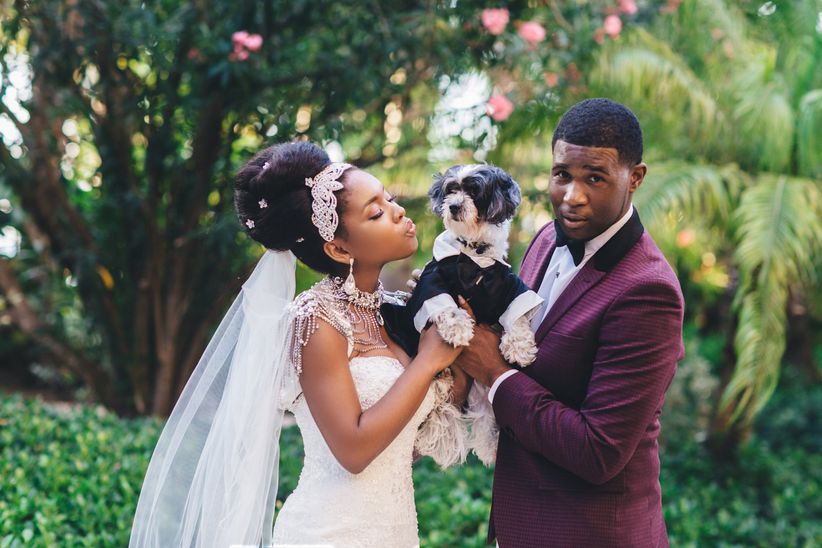 Choosing an elegant style for your locks that fits your wedding aesthetic is one of the most important tasks on your wedding planning checklist. When searching for wedding hairstyles for Black brides you'll want to consider a few things, including the climate of your wedding location, whether you'll wear a veil, and if you'll be rocking your natural hair or a relaxed or weaved style. You'll want to have this info together before you start to seek out a wedding hairstylist for your big day, as this will also help them provide an accurate price quote for you. A little inspo goes a long way at this stage in your planning, too. Seeing how other Black brides styled their hair, hair accessories, and veils will give you some idea of what feels most like you and provide a reference for your stylist.
Check out these modern wedding hairstyles for Black brides.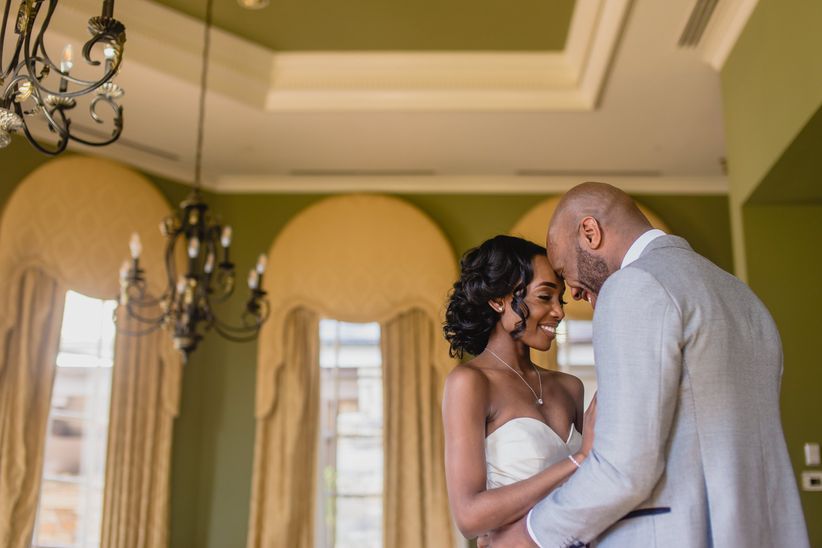 Long Barrel Curls
Create a dreamy and romantic wedding hairstyle by asking your stylist for long barrel curls. (If you need to add some length, this style is super-easy to blend with tracks, too.)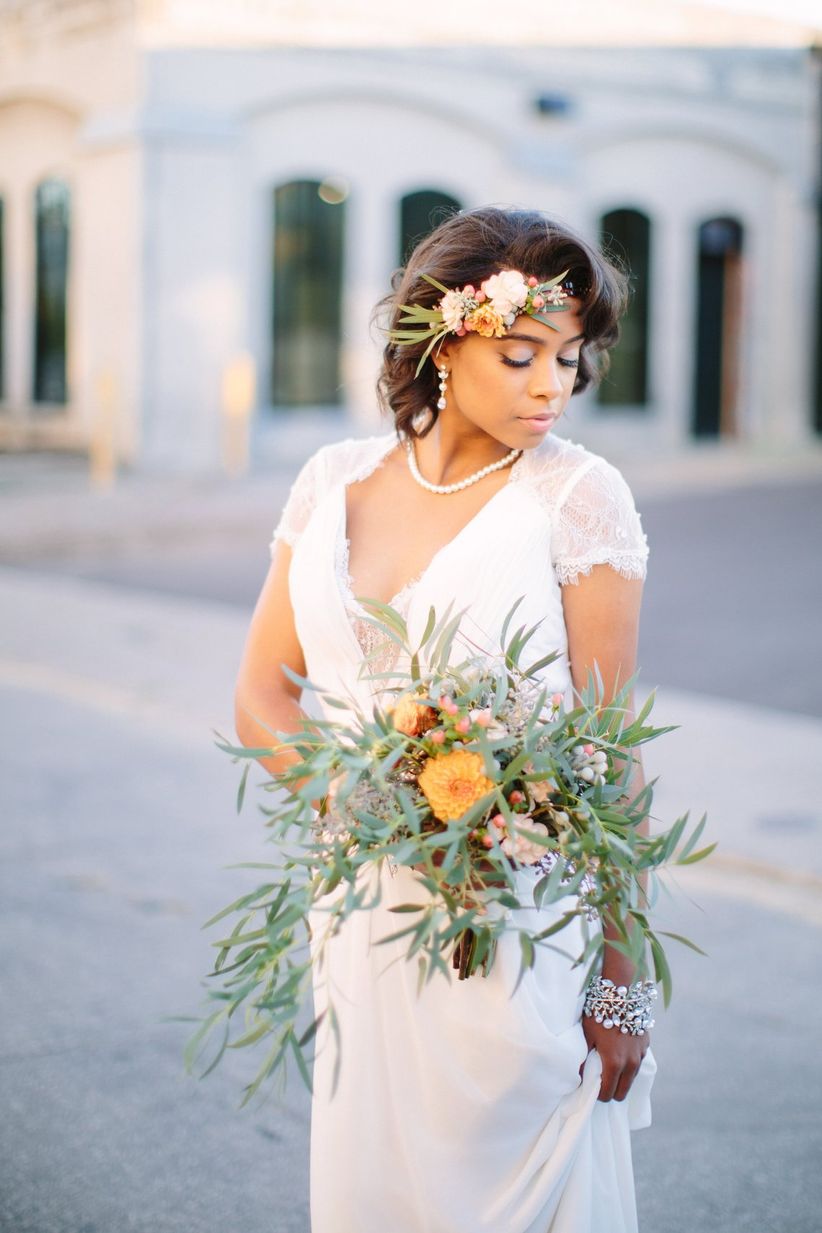 Shoulder-length Blowout with Curls
If you love to treat your natural or relaxed hair to a soft blowout or silk press with tons of curls and movement, this is the perfect wedding hairstyle for you.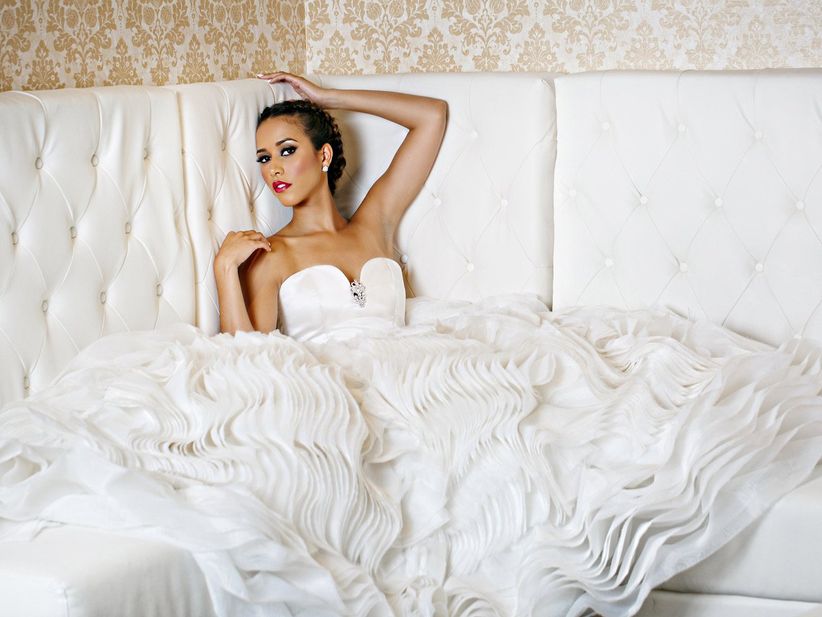 Sleek Braided Crown
A gorgeous and elegant choice of wedding hairstyles for Black brides, these braids work for both natural and relaxed tresses. They're also a perfect complement to just about any veil style.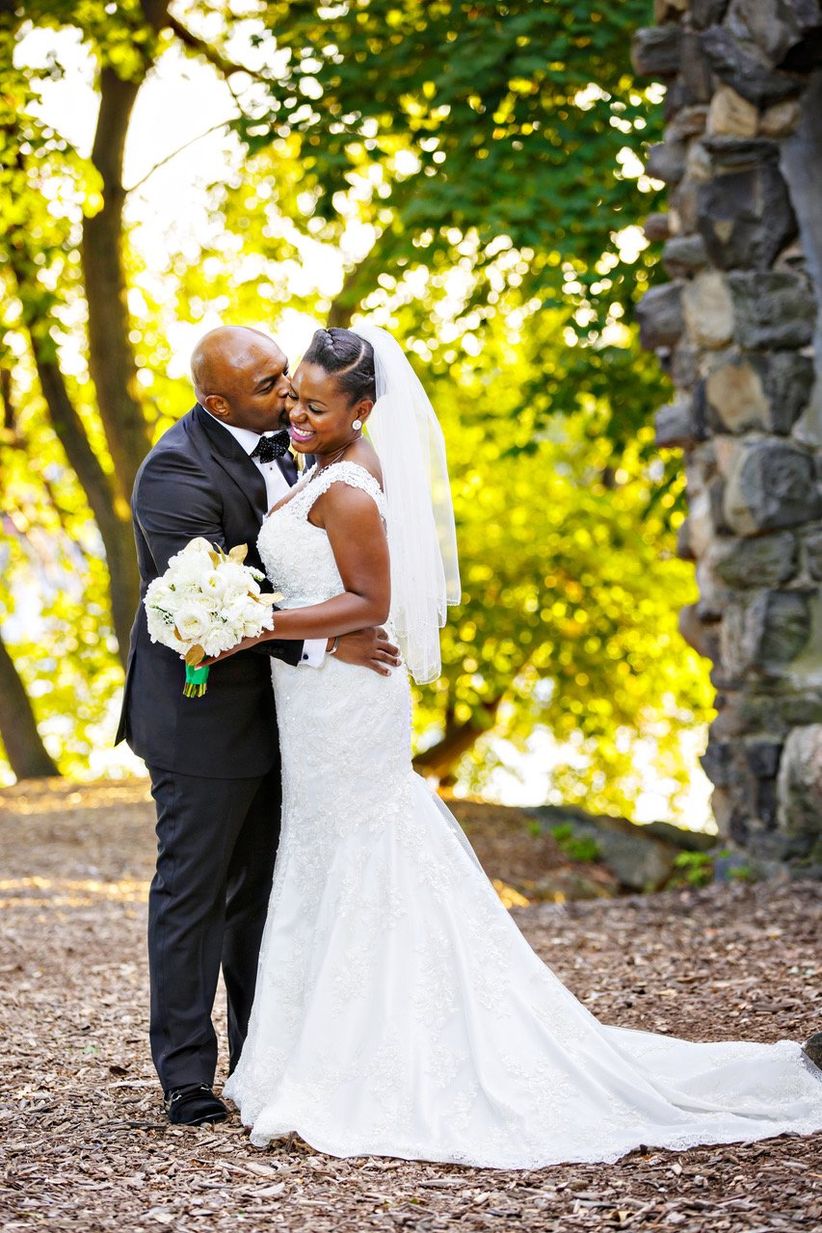 Trendy Twisted Crown
A variation on crown braids, a twisted crown is chic, versatile and virtually guaranteed to hold up through the ceremony and reception. You might want to let your MOH know she'll be on edges duty, though!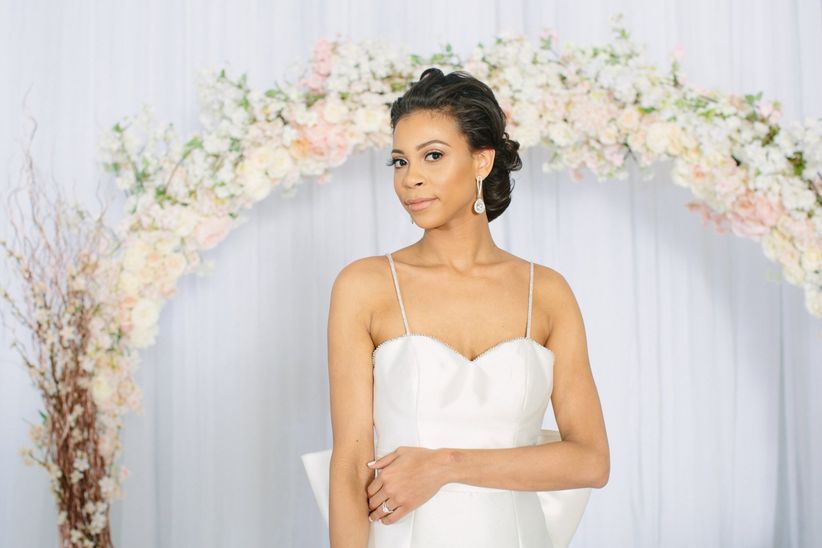 Low Bun with Baby Hair
This is one of the most elegant hairstyles for Black brides that is particularly great if you have long hair or like to wear long extensions. There's lots of texture and it keeps your hair off your face — with the exception of soft baby hair.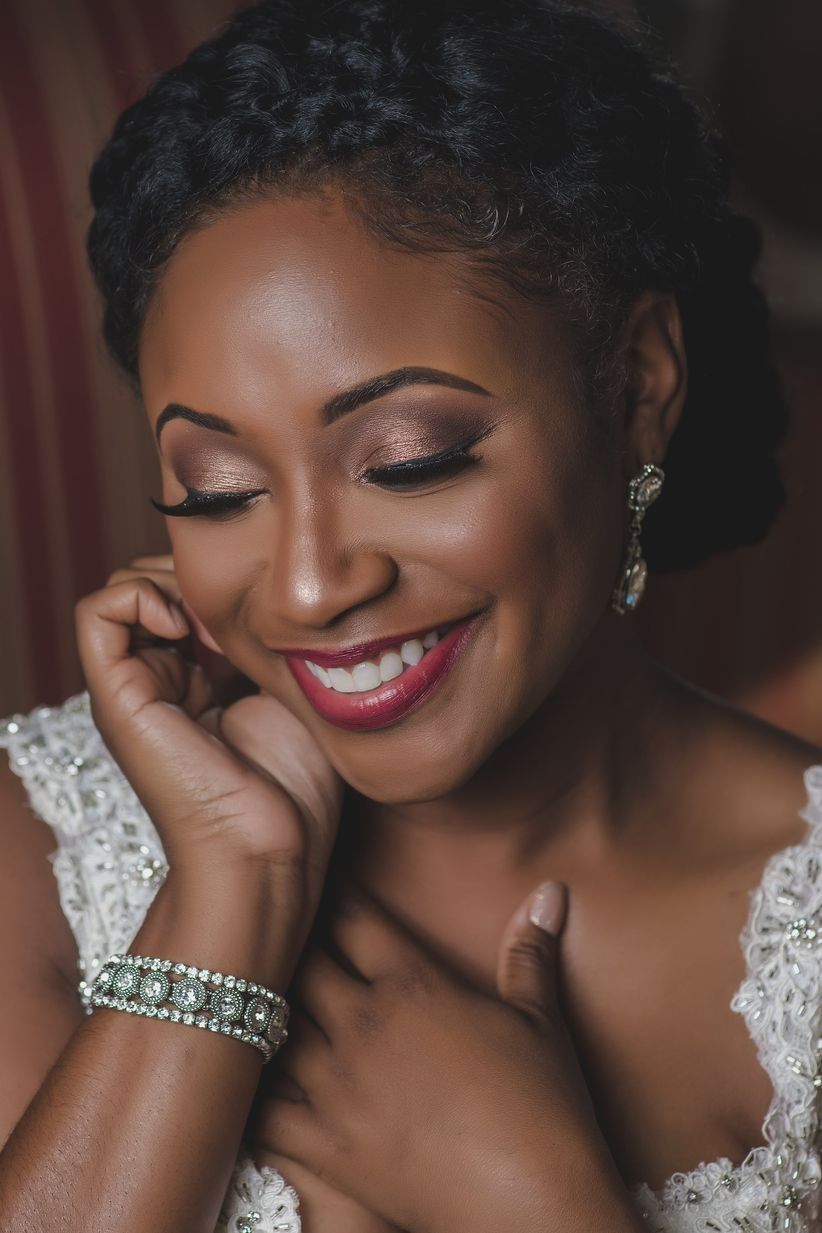 Braided Crown with Low Bun
Keep your hair natural or straighten for this thick braided crown and a low bun. It's a gorgeous combination of two wedding hairstyles for Black brides.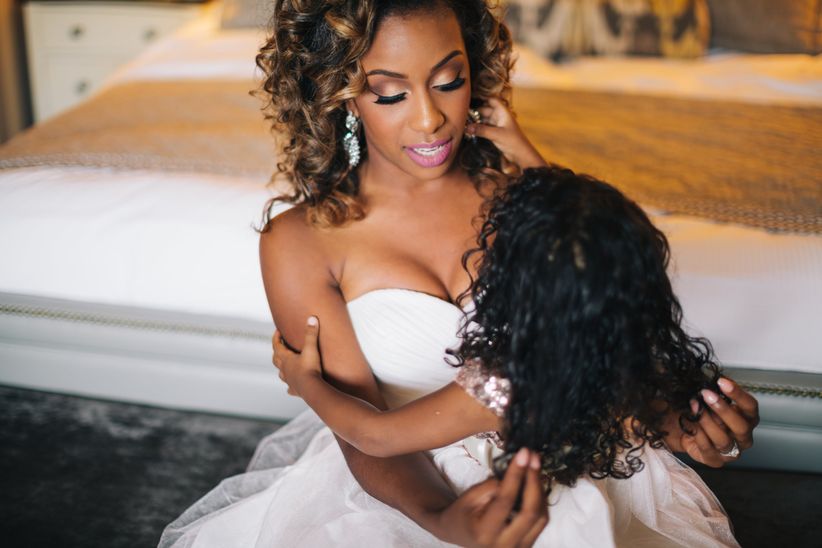 Long, Loose Curls
Perfect wedding hair is not limited to updos. Longer hair worn loose is perfect for brides choosing strapless gowns or women who just want some hang-time to whip around the dance floor.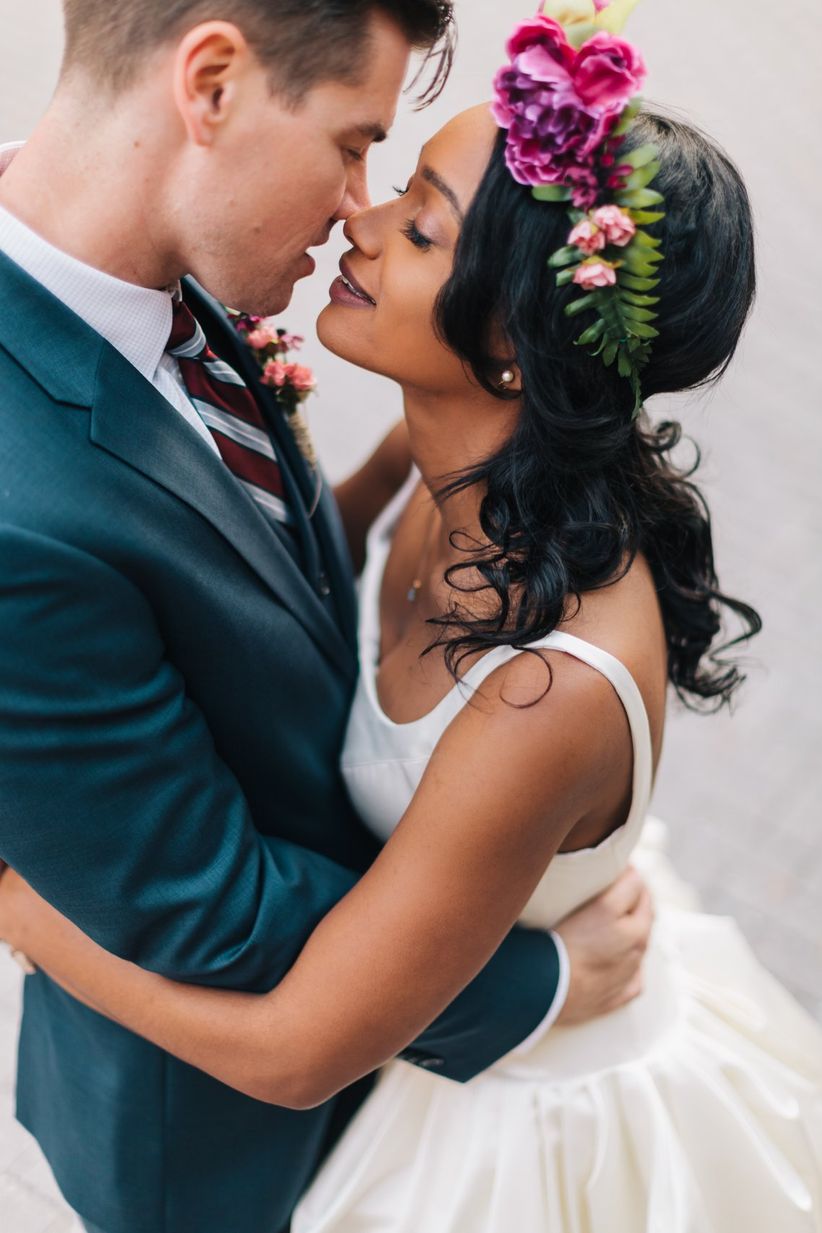 Flower Crowns & Loose Waves
Another benefit of loose waves or curls for your big day? It's that much easier to adorn yourself with beautiful flowers. Flower crowns add rich greenery and bright hues to your wedding style, while more subtle options, like baby's breath, add a touch of sweetness to your hairstyle.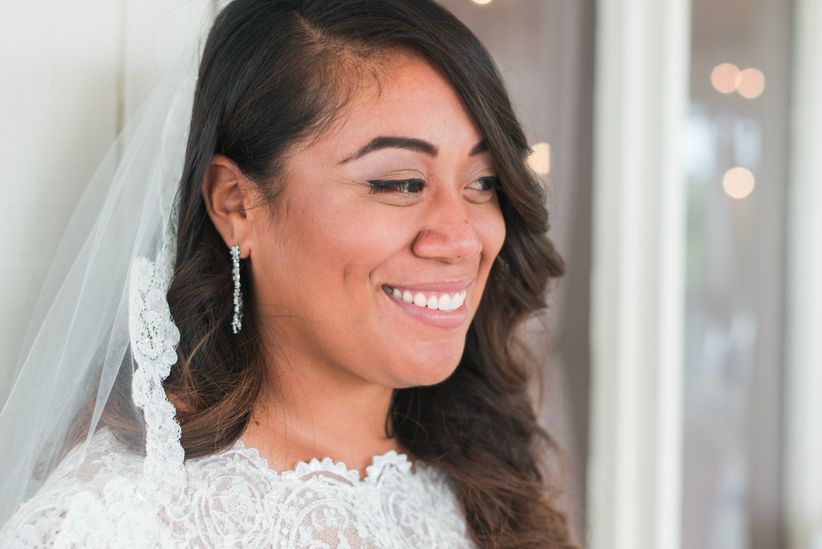 Long Layers & Light Feathering
You don't have to go full "Charlie's Angels," but a nice feather or two is a great way to frame your face and show off your veil. One of the most simple and versatile wedding hairstyles for Black brides, long layers are also a great time to experiement with extensions for you big day.
Side-Swept Curly Layers
Side-swept 'dos are the best of both worlds: Sleek on one side and loose on the other. Add even more interest with warm highlights and fun accessories, or keep it understated with the focus on your curly layers.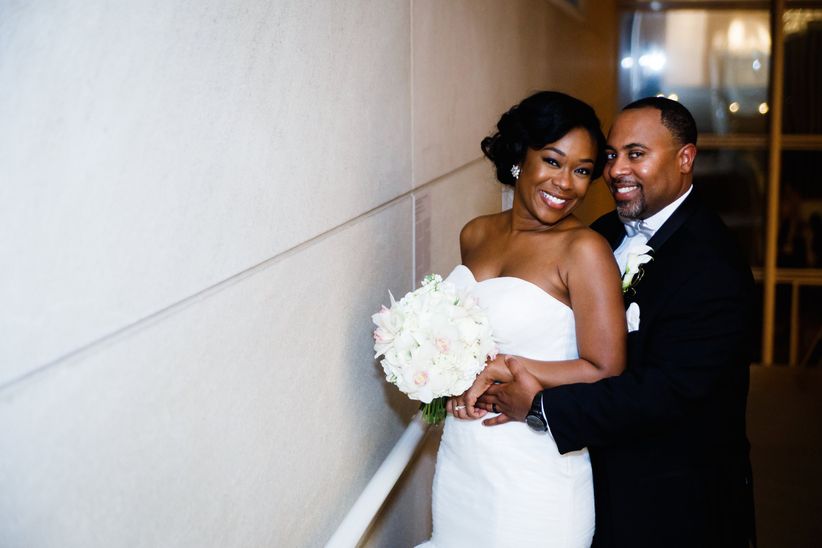 Bundled Loose Curls
An elegant updo to show off a strapless gown or statement jewelry, this style involves adding loose spirals to your hair before bundling them at the nape. A side-swept bang and pin curls are added to complete the hairstyle.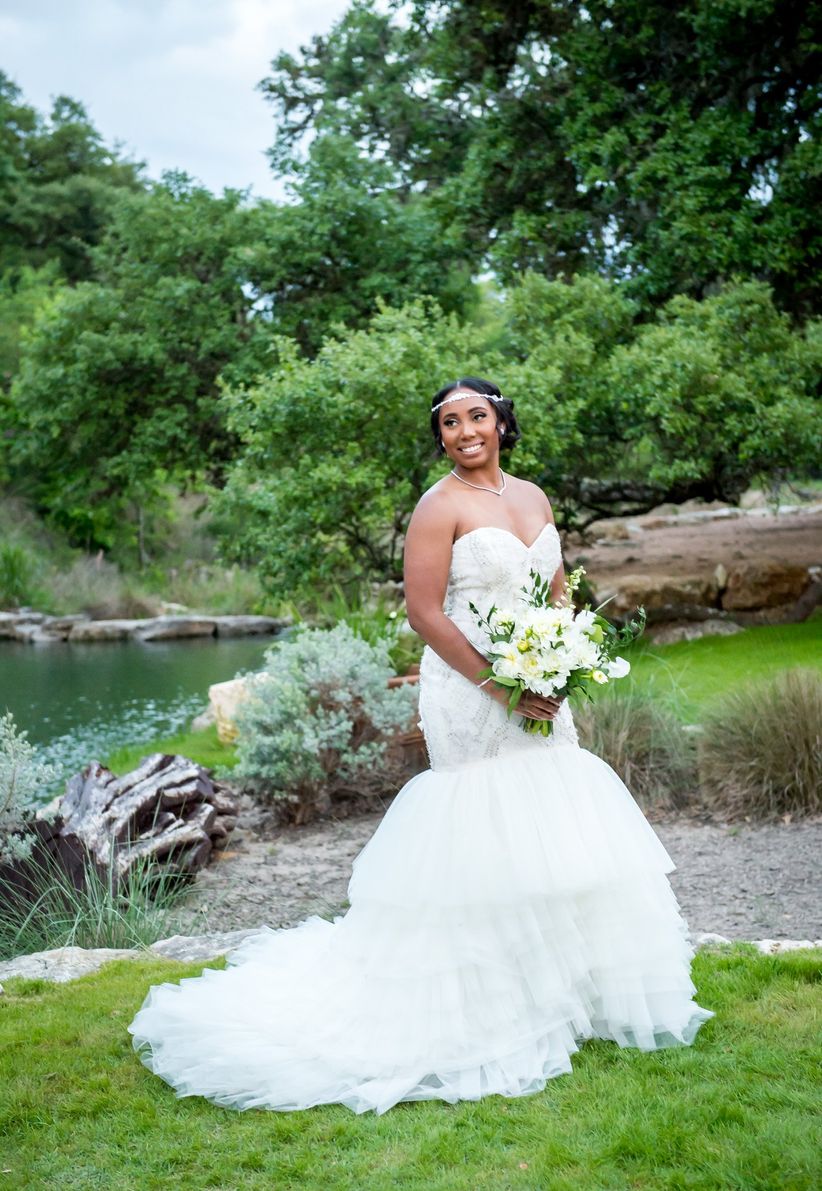 Metallic Headpiece & Low Bun
If you've selected the perfect wedding hair accessory and you need a hairstyle to compliment it, this low bun with a middle part is a chic choice.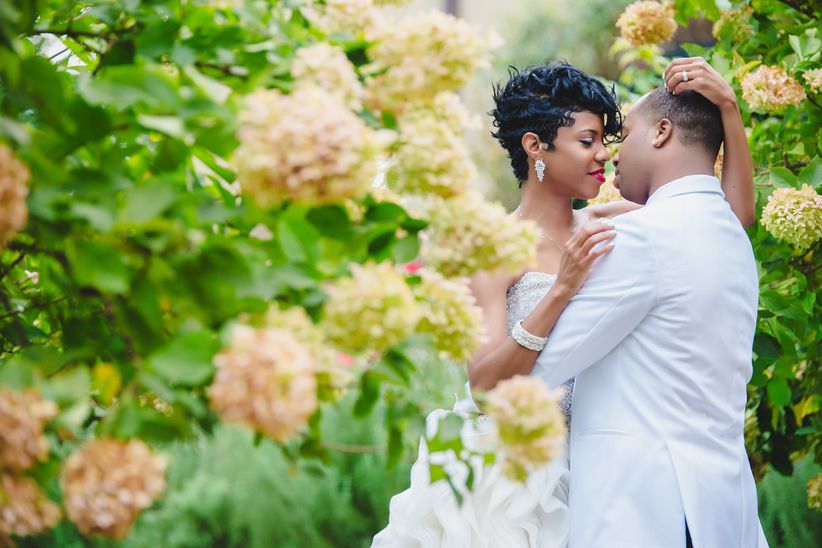 Curly Pixie with Finger Waves
Finger waves are back as one of the most trendy wedding hairstyles for Black brides. If your hair is super-short, ask your stylist to create the intricate waves all over. If you have a pixie cut, leave the top curly and side-swept, like this bride.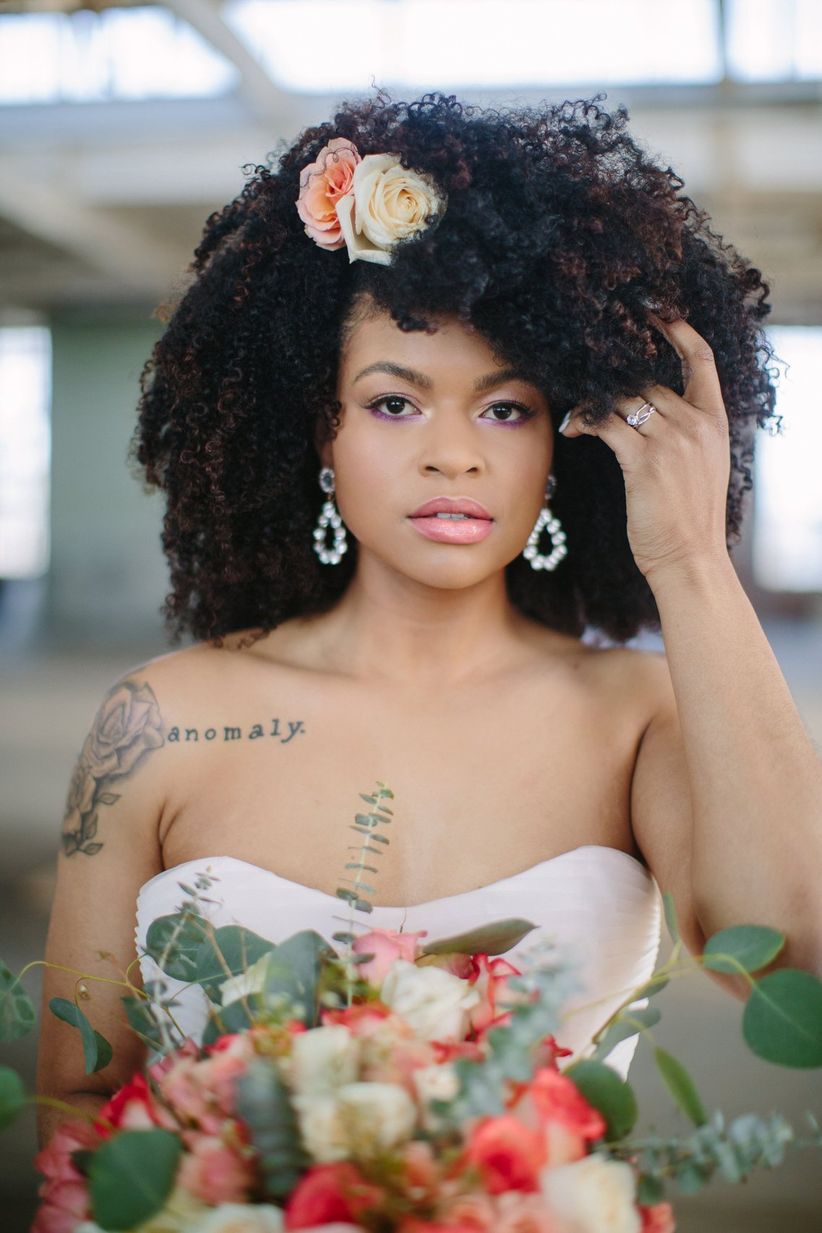 Natural Kinky Curls
Whether you've been growing out your natural curls (or coils, or kinks, or waves), or you'll be rocking a textured wig or weaved look, this is a striking bridal hairstyle. A few blooms from your florist are all you need for peak Solange wedding vibes.
Long Bangs With a Bun
Bangs add a ton of visual interest to your wedding hairstyle and allow you to show off a bit of your tresses when the rest are tucked into a bun. Sweep them to the side like this bride so you won't have to worry about keeping them out of your face all day.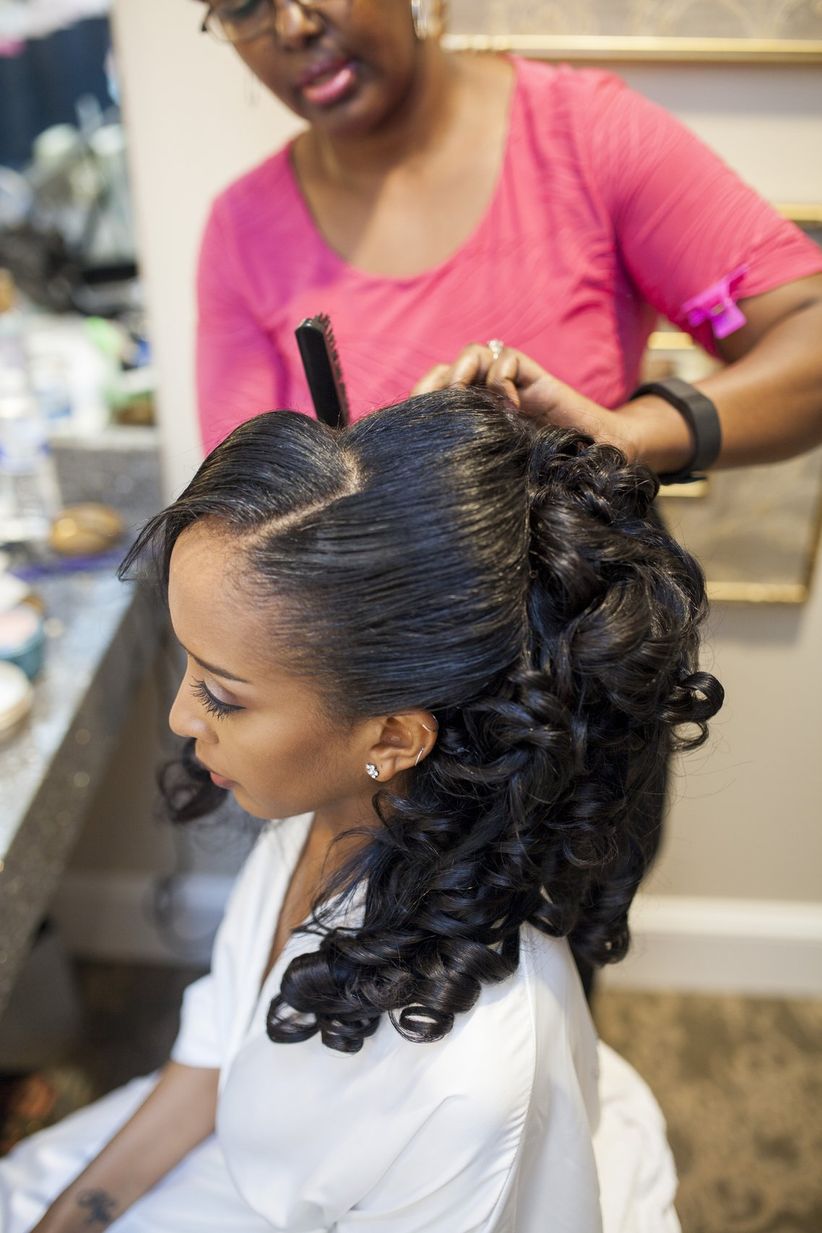 Half Up With Barrel Curls
Keep your long hair out of your face while showing it off with this half up hairstyle. Side-swept bangs, a top pompadour and defined ringlets in the back make this style a show-stopper.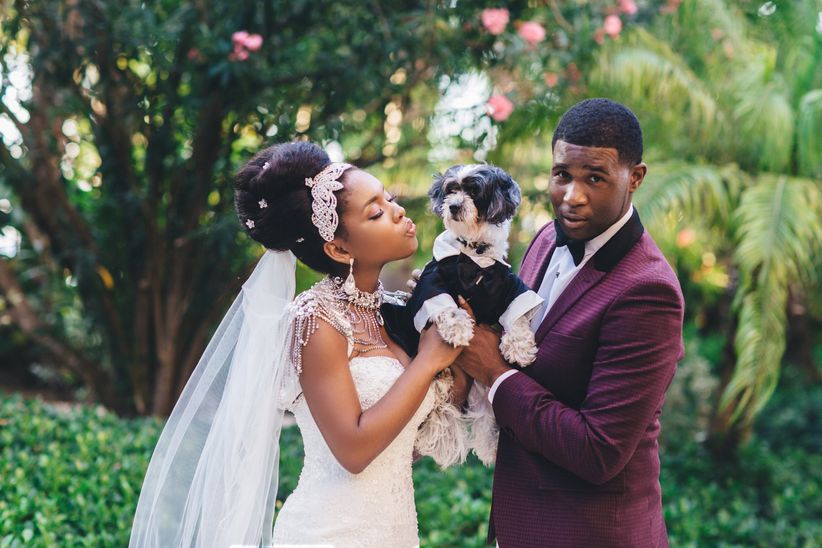 High Textured Bun
Looking for a wedding style that shows off your natural texture? This high textured bun is a winner. Accessorize with a bedazzled headband like this bride or keep it simple and let your natural waves, curls, coils or kinks steal the show.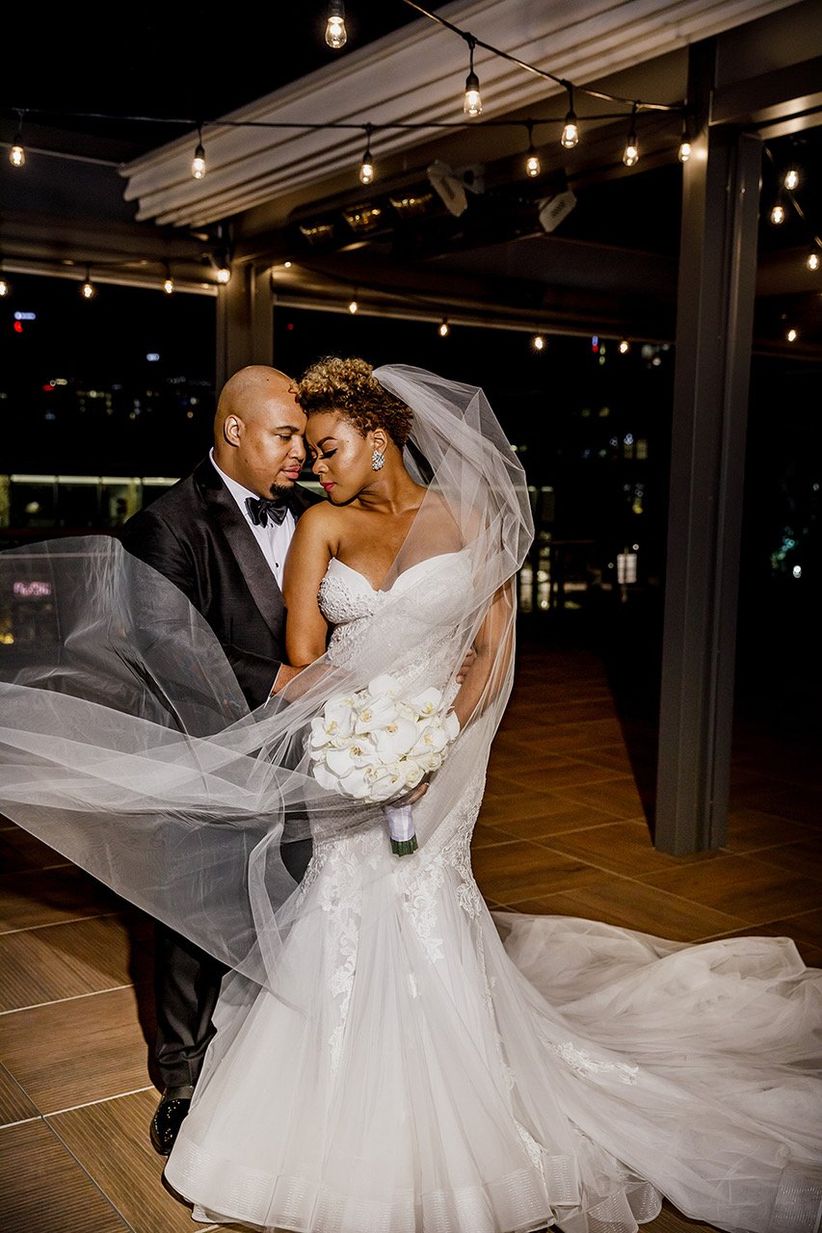 Short Blonde Curls
A great tapered cut and an ombre color effect are all that's needed to create this natural wedding hairstyle. Even better, the style is just as striking if you choose a different color or stick with your natural shade.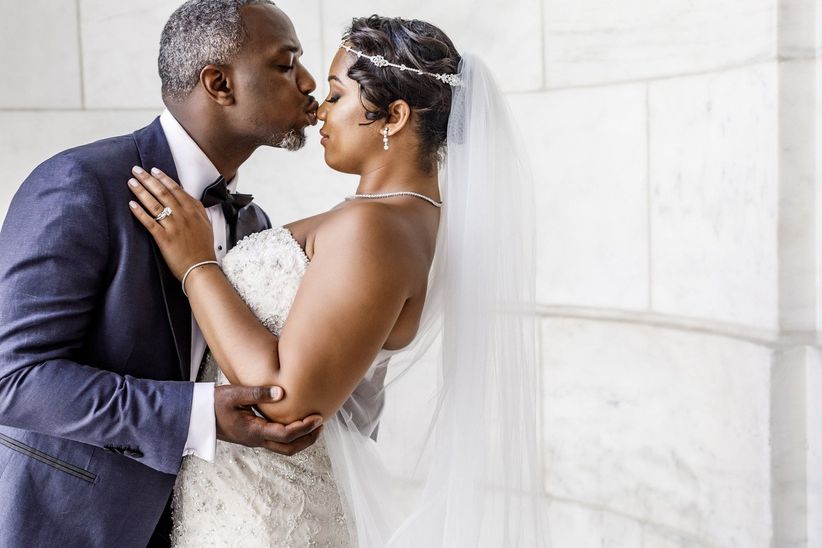 Medium Curls With Jeweled Hair Accessories
It can often be difficult to find elegant styles if your hair isn't super-short or super-long. This sophisticated curly bun with curly tendrils is perfect for medium-length hair.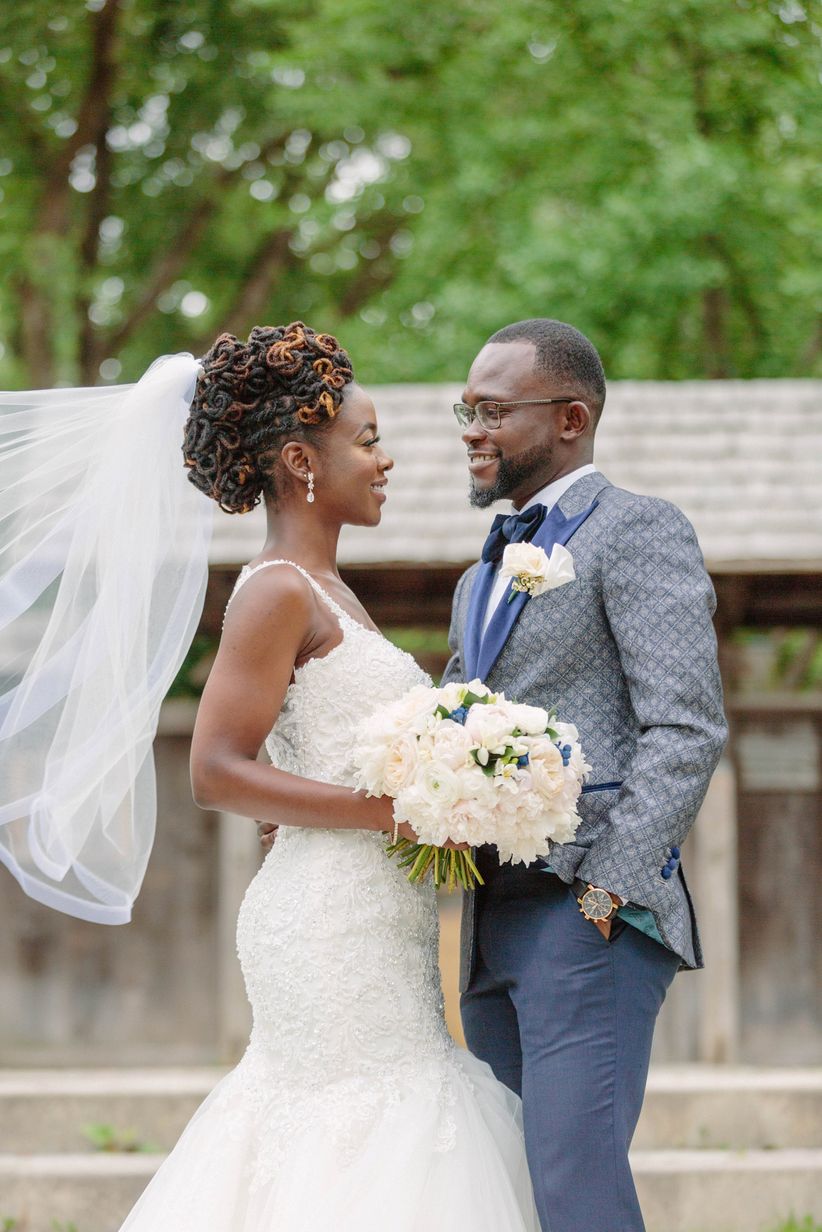 Twisted Locs Updo
Long loc'd hair with warm highlights will really shine in this updo that features pin curls and twists.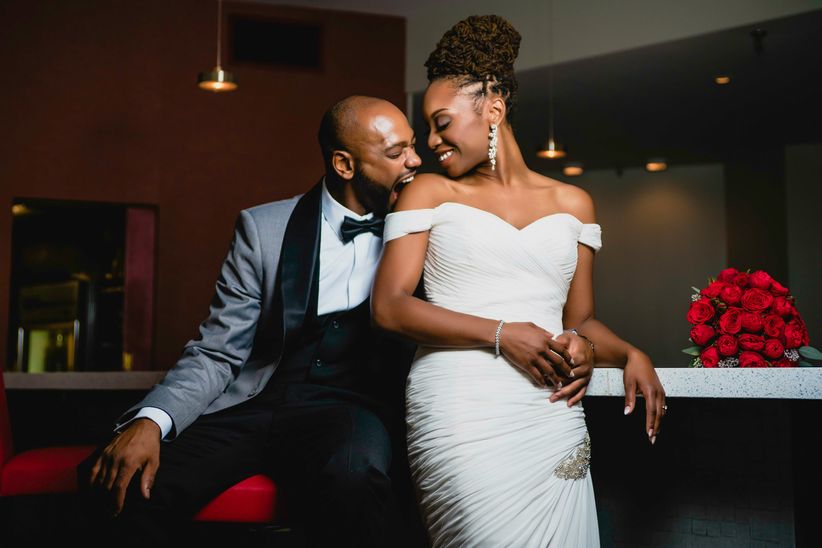 High Bun with Locs
Here's another way to show off long locs in this elegant and simple wedding hairstyle for Black brides. If you don't have locs, but love the style, try faux locs for a similar look.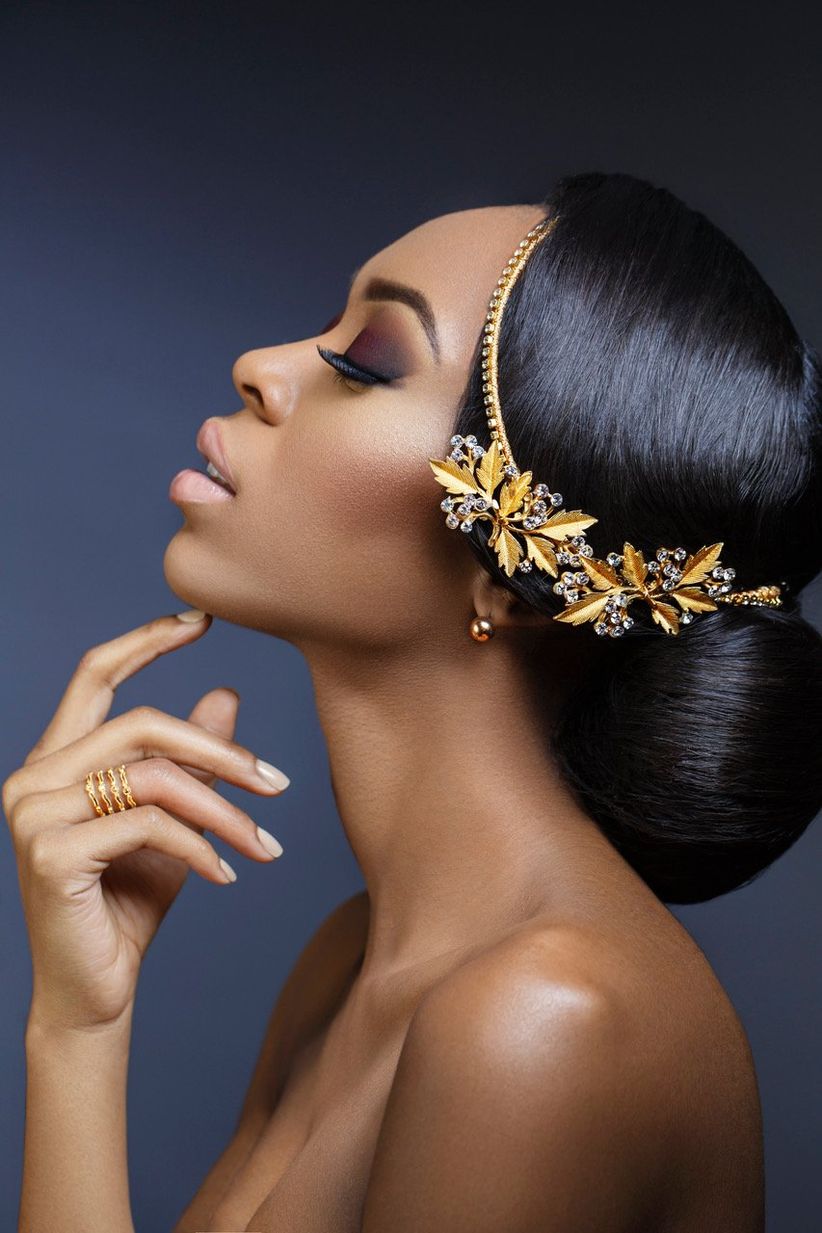 Straight Low Chignon
If you really want to show off your bridal makeup on your big day, go for a sleek chignon at your nape. Far from plain Jane, a neat knot is the perfect canvas for bright accessories and complimentary veils. While this style features straight hair, the same neat bun can be achieved on naturally textured tresses as well.